5005 alloy aluminum plate is a medium strength alloy with good atmospheric corrosion resistance and excellent weldability. It is very suitable for decorative anodizing. Please note that alloy 5005 aluminum plate is suitable for anodizing and may appear stripes. If the surface treatment you are looking for is critical, please indicate "special anodizing quality" when ordering.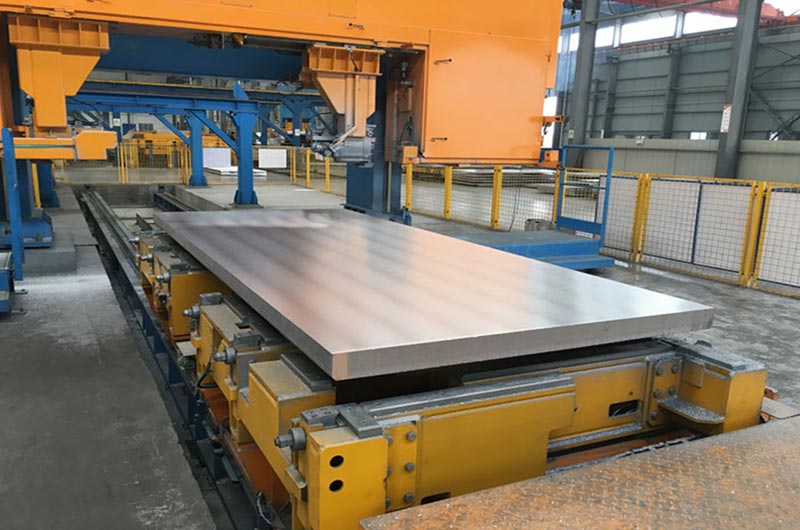 The main alloy element of 5005 aluminum plate is magnesium, which has medium strength and good corrosion resistance, good fusion and processability, the strength is equivalent to that of 3003, and good fusion, processability and corrosion resistance. After anodizing, the film on 5005 is clearer and lighter than that on 3003, and has better color matching with 6063 architectural profile.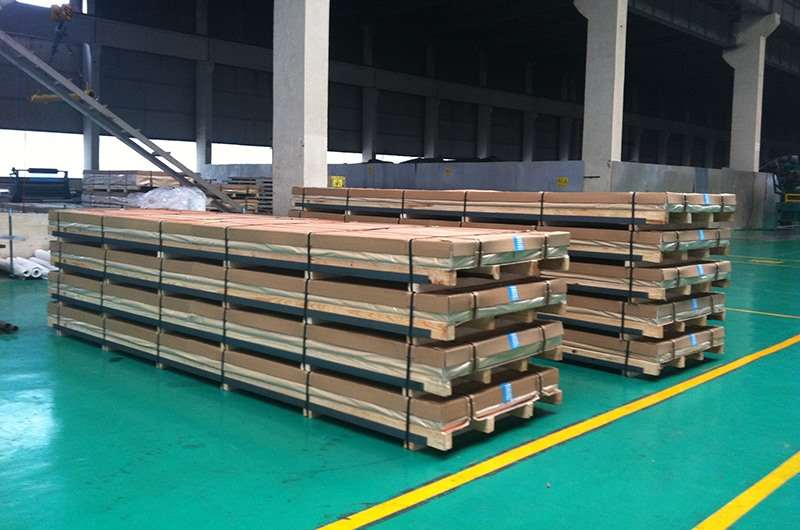 Customer customized 5005 aluminum plate to be delivered
Signi aluminum is a professional aluminum supplier with complete product specifications, free samples, affordable price, large quantity and excellent price. The 5005 aluminum plate produced by signi aluminum has a thickness range of 1-500mm and a width of 100-2650mm. During the production process, all processes are strictly controlled. After layer by layer quality inspection, the 5005 aluminum plate produced has flat plate shape, smooth surface, neat cutting edge and no burr. The product has quality system certification and product quality is guaranteed.
Alloy 5005 aluminum sheet is a non heat treatable 0.8% magnesium alloy, which can usually be obtained in the form of flat rolled coil, sheet and plate from various production plants. 5000 series magnesium alloys have high strength due to the addition of magnesium; With only a small amount of magnesium added to 5005, the alloy can be hardened to a large extent by cold working, and a series of "H" tempering can be carried out, but these tempering can not reach the high strength of corresponding tempering in other alloys (such as 5052 or 5083).
5005 aluminum plate common delivery status
Signi aluminum aluminum plate can be customized according to requirements to meet the diversified needs of users. The specific specifications and parameters are as follows:
Aluminum plates have different states and specifications, and the price varies according to demand
Thickness: 0.1-500mm
Width: 20-2650mm
Length: 500-16000mm
Material status: F, O, H12, h14, H16, h18, H19, H22, H24, H26, h28, H32, H34, H36, h38, h111, etc.
Surface: polished, bright, paper staggered, single-sided film, double-sided film.
Executive standard: national standard for aluminum sheet and strip (GB / T 3880-2006), which is applicable to the unified standard for aluminum alloy sheet and strip materials.
al5005 datasheet(5005 aluminum properties)
Alloy
Tensile property
Brinell hardness
σb/Mpa
σ0.2/Mpa
δ/%
5005-h32
140
115
11
36
5005-h34
160
140
8
41
5005-h36
180
165
6
46
5005-h38
200
185
5
51
 5005-h34 vs 5052-h32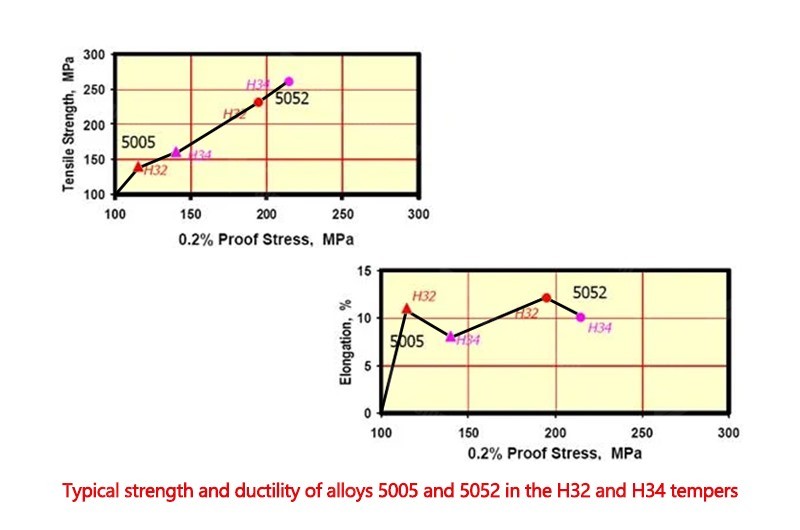 5005 aluminum sheet is widely used
5005 aluminum sheet is used for conductor, cooker, instrument panel, building roof, cladding, corrugated plate, sign, road sign and nameplate, food and chemical equipment, furniture, anodized parts, HVAC equipment, packaging, pipes and pipes, tank body, shell, curtain wall aluminum plate, automobile inspection fixture, internal and external decoration materials of building materials, vehicle interior decoration materials, etc. it is widely used in life.
Decoration / Architecture
Aluminum plate is used for building decoration, which can be waterproof, moisture-proof, corrosion-resistant, good processability, very high cost performance, good sound insulation effect and high overall aesthetics.
The construction industry pursues economic and environmental protection. 5005 aluminum plate and aluminum alloy are light, durable, economical and environmental friendly. They are used in building curtain walls and aluminum-plastic plates with good corrosion resistance and weather resistance. They are deeply loved by users. In recent years, the demand in all walks of life has gradually increased.
cooker
5005 corrosion-resistant aluminum plate for cooking utensils has strong thermal conductivity and light weight, so it is also a good choice to make a pan, but most people don't know that the material of this pan is 5005 aluminum plate for cooking utensils.
Curtain wall
5005 aluminum plate is used for curtain wall aluminum veneer. It has the advantages of corrosion resistance, light weight, good economic benefits and high material recycling rate. It is in line with the current development trend of energy conservation and environmental protection. It has broad prospects and large market demand. Aluminum veneer curtain wall adopts high-quality and high-strength aluminum alloy plate, commonly used 3003h24 aluminum plate and 5005h24 aluminum plate, with thickness of 1.5, 2.0, 2.5, 3.0mm, etc.
What are the characteristics of 5005 aluminum plate for aluminum veneer curtain wall?
1. Light weight and high strength. Aluminum curtain wall has good rigidity, light self weight, convenient and fast installation and construction, and is suitable for high-rise buildings.
2. Easy to process and shape. Aluminum curtain wall has good processability. It can be processed into various shapes by using the process of processing first and then painting.
3. Recyclable. Aluminum curtain wall can be recycled, which is beneficial to environmental protection.
Application of 5005 alloy in automobile lightweight / instrument panel
5005 alloy aluminum sheet is a continuous casting and rolling process, which has good processing formability and excellent oxidation deep processing. It also has medium strength, excellent corrosion resistance and welding performance, low density, high tensile strength and good elongation. 5005 alloy can be used for automobile inspection tools, fixtures and interior decoration. The automobile manufacturing industry conforms to the development trend of lightweight, and many parts are looking for lightweight materials to replace, so as to improve the power of the automobile, reduce fuel consumption and reduce exhaust pollution.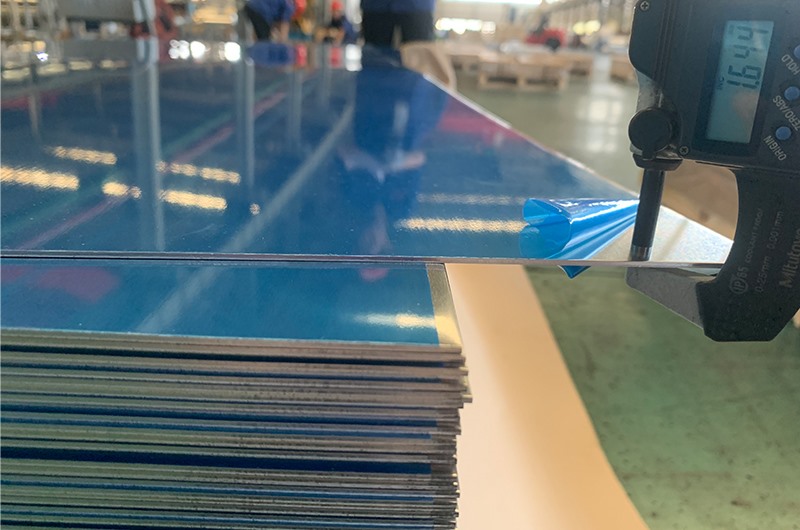 The most common tempers for 5005 aluminum plate sheet are:
H34 stabilised - A low temperature thermal treatment or heat introduced during manufacture which stabilised the mechanical properties and relieves residual internal stress, plus usually improves ductility
    The alloy is also produced as stranded conductor, drawn seamless tube, wire and bar, available on indent from Atlas.
Corrosion Resistance
Excellent in a wide range of atmospheric environments, in architectural applications. The magnesium content is low enough that it does not suffer from the stress corrosion cracking that can affect alloys with more than about 3½% Mg, such as 5083.
Heat Treatment
Alloy 5005 aluminum plate sheet is not hardenable by heat treatment. It can be significantly hardened by cold work (eg by cold rolling) and various "H" tempers are produced – most commonly H32 (¼ Hard) and H34 (½ Hard) – as well as the soft annealed Temper O condition. The alloy spontaneously age-softens at room temperature immediately after cold work but will eventually reach a stable condition; all flat rolled mill products are supplied with stable properties. This is usually achieved by a stabilisation thermal treatment, either a low temperature thermal treatment or as a result of heat introduced during rolling, which results in the H3x tempers. H2x tempers are more
severely strain hardened and then partially annealed, again to quickly reach the required stable temper properties. To soften Alloy 5005 it can be annealed by heating to 345°C, hold until uniform temperature then cool; the rate of cooling is not important.
Anodising
All aluminium alloys can be anodised to improve corrosion resistance, but decorative anodising is only carried out on a few alloys. The most commonly decoratively anodised non-heat-treatable alloy is 5005. It is produced as a special "anodising quality" (AQ) but Atlas does not stock this product. It is most common and usually successful for general purpose quality (non-AQ) to be anodised; this can however result in some visually inconsistent anodising outcomes and in severe cases in "tiger stripe" appearance. It is always recommended that anodising performance be tested by trialling a piece from a batch of sheet.
AQ sheets can be sourced on indent if required for critical applications. 
When anodised, film on 5005 is clearer and lighter than on 3003 and gives better colour match with 6063 architectural extrusions.
Welding
Excellent weldability by all standard methods; gas, electric and resistance welding. GMAW and GTAW are preferred and widely used. Filler alloys are usually 4043 although other alloys are possible. Welding of strain hardened tempers will reduce strengths in the heat affected zones.
Machining
Machinability is poor, with the harder tempers such as H34 and above being somewhat easier to machine.
Chemical Properties
Alloy
Si
Fe
Cu
Mn
Mg
Cr
Ni
Zn
Ti
Ga
V
Others
Aluminium

min.

Each
Total
5005
0.3
0.7
0.2
0.2
0.5-1.1
0.1
-
0.25
-
-
-
0.05
0.15
Remainder
Reasons for choosing signi aluminum 5005 aluminum plate manufacturer
Signi aluminum is a large aluminum plate manufacturer:
Product quality: signi aluminum has formulated extremely strict standards for raw materials to control product quality from the source and bring quality assurance to customers.
In terms of equipment: it has modern equipment, advanced technology and unique heat treatment technology to ensure a high yield of products.
Price: aluminum plate has reliable quality, excellent performance, affordable price, large quantity and excellent price.
Service: send samples free of charge, provide original warranty, and track every order from pre-sales consultation to after-sales delivery in time to ensure that customers can receive goods safely.