The construction industry is one of the three major markets for aluminum, and about 20% of the world's total aluminum production is used in the construction industry. The aluminum plate is an important part of the aluminum used in construction. Signi aluminum takes you to see the application of aluminum plate in the construction industry
The advantages of aluminum alloy in building construction
Compared with steel and other metals, glass, concrete and plastic materials, aluminum alloy has many advantages
Corrosion resistance
The surface is scratch resistant
Easy to clean
Multicolor
Low density and low weight
Easier extrusion molding
Low recyclable cost, green and environmental protection
Saving land and construction costs
What are the types of aluminum sheets for construction?
Due to different needs, different types of aluminum sheets are derived from aluminum sheets for construction:
Corrugated Aluminum Sheet
Definition: Its cross-section is wavy and dedicated to exterior wall decoration.
Features: It is a building material with the advantages of light weight, high strength, fire resistance, beautiful appearance, earthquake resistance, ventilation, waterproofing, heat preservation, sound insulation, convenient transportation and construction, etc.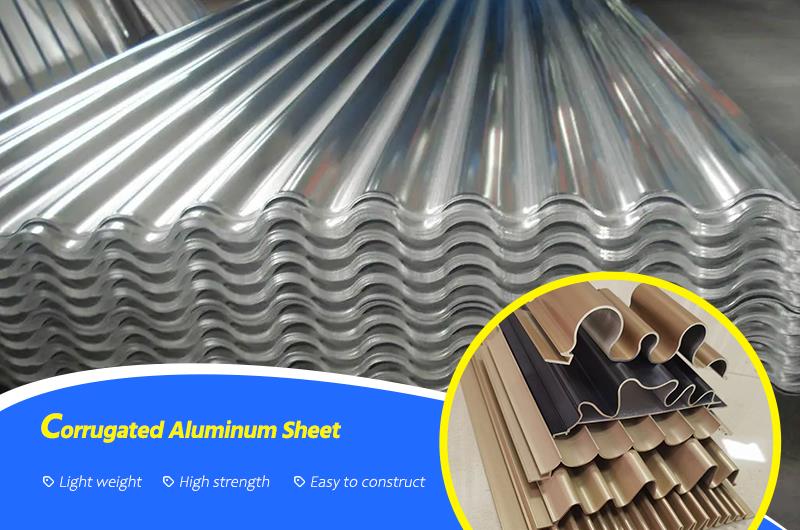 Corrugated Aluminum Sheet
Aluminum mesh plate
Definition: Mesh aluminum veneer is a high-quality aluminum alloy sheet as the base material, after bending and other techniques, the surface is sprayed with decorative paint. It is used for decoration of interior and exterior walls of buildings, lobby facades, etc.
Features: light weight, good rigidity, high strength, good weather resistance and corrosion resistance, good workmanship, uniform coating and various colors.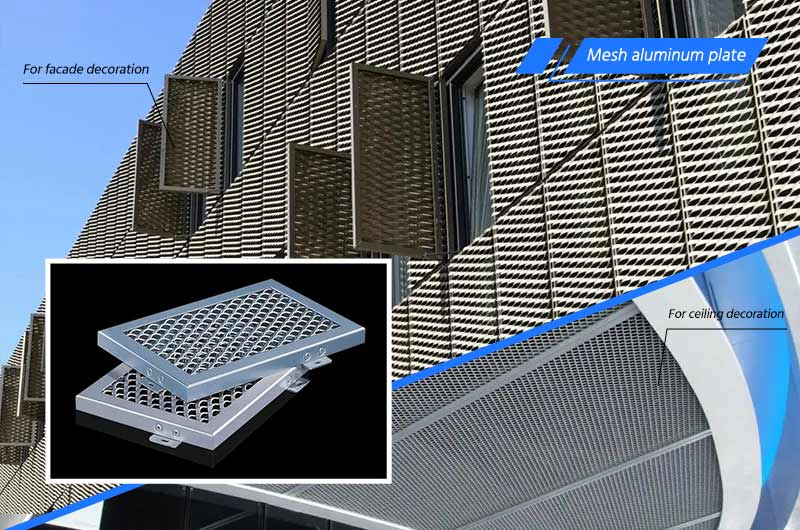 Aluminum Foam Plate
Definition: After adding additives to pure aluminum or aluminum alloy, foam aluminum plate is formed by foaming process.
Features: sound absorption, sound insulation, light weight, high specific stiffness, excellent electromagnetic shielding performance, non-burning and good heat resistance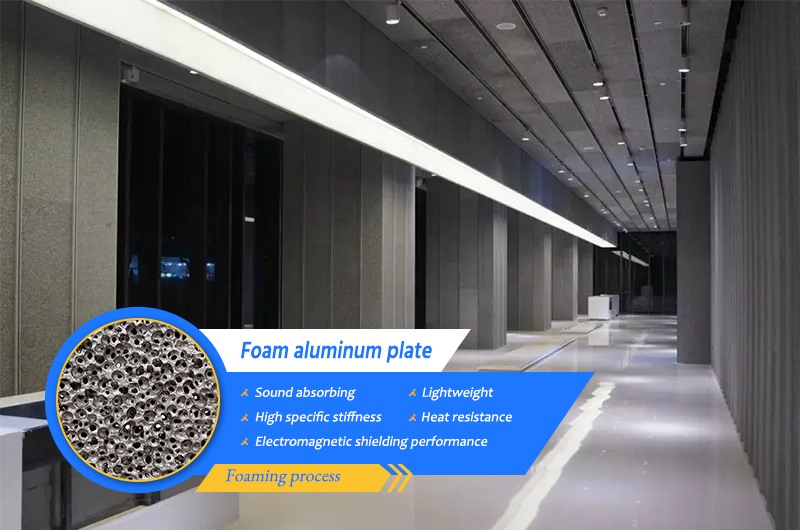 Perforated aluminum sheet
Definition: A rectangular material with a rectangular cross-section and uniform thickness made of pure aluminum or aluminum alloy material by pressure processing.
Hole type: round hole, square hole, prismatic hole, triangular hole, pentagram hole, oblong hole, etc.
Features: good bending strength, good wind pressure resistance, light weight, high strength, corrosion resistance and other characteristics.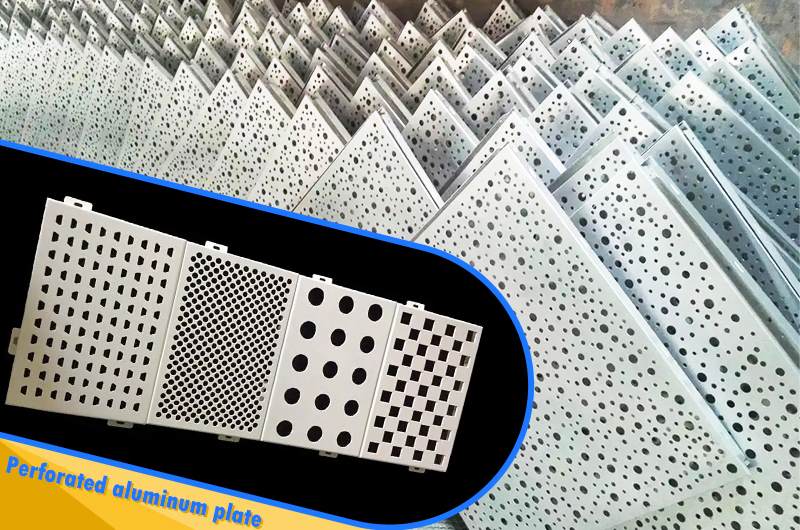 Which building components use aluminum panels
Aluminum plate for curtain wall
The aluminum panels used in construction include single-layer aluminum panels, composite aluminum panels and other materials. The aluminum plate curtain wall is mostly used for wall shielding and dark walls, and the aluminum plate curtain wall is made of single-layer aluminum plate.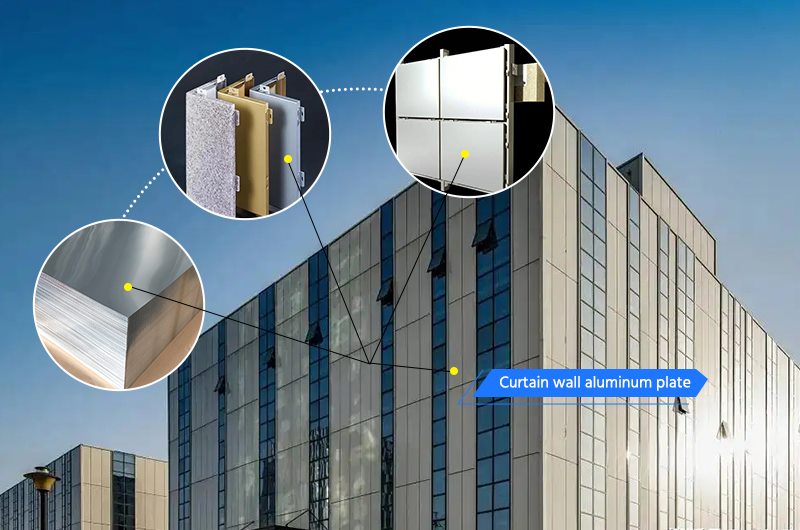 Because it can get sprayed surfaces of various colors, it has good strength, low cost and long life. If it is not in direct contact with steel, the aluminum plate will not fall off and corrode for 50 years if it is hung on the wall.
Its common thickness is 1.5, 2.0, 2.5, 3.0MM, the model is 3003, and the state is H24. Among them, the 5005 curtain wall aluminum plate is more popular among the public.
Aluminum retaining wall fence
Wall panels are also called wall skirts and siding. The main application is the design of the background wall, TV wall, sofa wall, bedside background, etc.
All-aluminum siding has good constant temperature and noise reduction, which can not only effectively protect the building walls, but also have excellent decorative properties.
Partition wall aluminium plate
The biggest feature of the aluminum partition wall is the sound insulation effect, followed by the shortening of the decoration construction period of the aluminum alloy partition wall.
Mitigation of ambient air pollution
Convenience for intelligent electrical communication network wiring.
It is a great help for the freedom of interior designer space layout.
For office areas, VIP halls, corporate displays, and product exhibitions, the sound insulation and furniture compatibility is very good.
Aluminium roofing sheet
Roof slabs are slabs that can directly bear roof loads. Roof panels are located on the roof of the house.
Features of aluminium roofing sheet: light weight, high strength, corrosion resistance, prevention of light pollution, diverse surface treatments, beautiful appearance, good plasticity, easy processing, convenient installation, environmental protection, etc.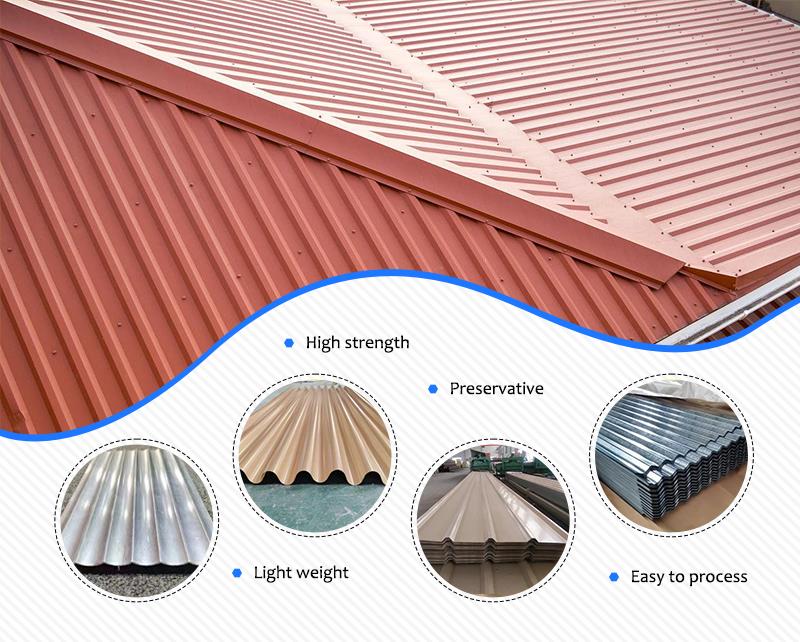 Aluminum Ceiling Sheet
The two areas of the kitchen and bathroom have large fumes, humidity, and many pipes on the roof. The aluminum ceiling sheet has the advantages of fireproof and moisture-proof, anti-corrosion and anti-electricity, sound absorption and sound insulation, and is the best choice for kitchen and bathroom ceilings.
Why choose Signi Aluminum as a supplier?
Over 12 years of experience in building, stocking and supplying architectural aluminum panels
Best prices for construction aluminium panels - available worldwide with shortest delivery times
Exporting architectural aluminum sheets to ASTM, EN standards is our specialty
We can handle the logistics for you - we can provide FOB, CIF delivery to any port
The documents we provide include – Certificate of Origin, Chamber of Commerce certified invoice and PL, Test certificate according to EN 10204 3.1, other test reports as our customers may request.
Appreciation of famous aluminum buildings