Aluminum tooling plate has perfect grain size, no internal stress when cut into small pieces, smooth and meticulous surface, precise and strict tolerance, widely used as fixtures, molds and tools. Aluminum cast tool and jig plate are one-third the weight of steel plate, which often eliminates the need to install or set up heavy handling equipment and reduces rail and screw loads. It is highly resistant to corrosion and requires no protective treatment. After the tool is scrapped, the residual value of the steel plate is higher than that of the steel.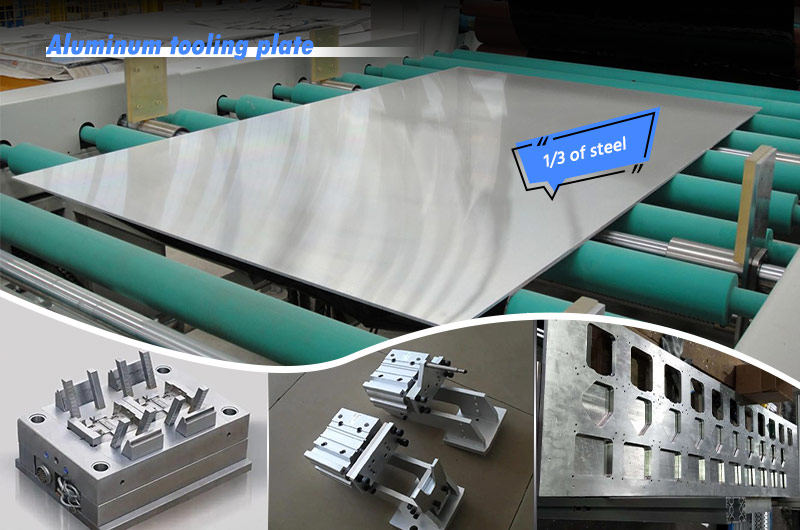 The aluminum tooling plate has a small and uniform grain structure and a unique stress-dissolved state, and hardly deforms after high-speed cutting. With perfect thickness tolerance and top stability, suitable for welding, oxidation treatment, corrosion resistance is also very good.
What are the categories of aluminum tooling plate?
Aluminum tooling plate grades are generally divided into 
aluminum tooling plate 5083
6061 T651 aluminum tooling plate
aluminum tooling plate 6082 T651
7075 T651 aluminum tool plate
According to the classification, it can be divided into 
aluminum jig plate
aluminum tooling plate
aluminum fixture plate
cutting aluminum plate
drill aluminum plate
precision ground aluminum plate
According to the production method, it can be divided into 
casting aluminum tooling plate
stretched aluminum tooling plate
Cast aluminum tooling plate is a continuous cast plate machined, and then thermally stress relieved, could cross cut into any required thickness, then milled the surface so as to make sure the highest thickness tolerance of any aluminium plate along with extremely good stability. It comes with great welding, anodizing and corrosion resistance.
Stretched aluminum tooling plate is usually made by 6061 6082 7075 alloy, after stretched by machine, its interal stress is also eliminated. The 6082 6061 7075 T651 aluminum tool and jig plates, then precison face machined to creat good dimension tolerance and thickness tolernace.
What are the characteristics of Aluminum tooling plate?
1.High strength, good corrosion resistance and oxidation resistance.
2.Stress-relieved state, small processing deformation, good formability and weldability
3.The product is easy to process and has good surface treatment effect.
4.Anti-magnetic, anti-radiation.
5.The product is isotropic and has high dimensional stability.
6.According to needs, the surface can be finely milled, the surface quality is good, and the finished product can be filmed on both sides.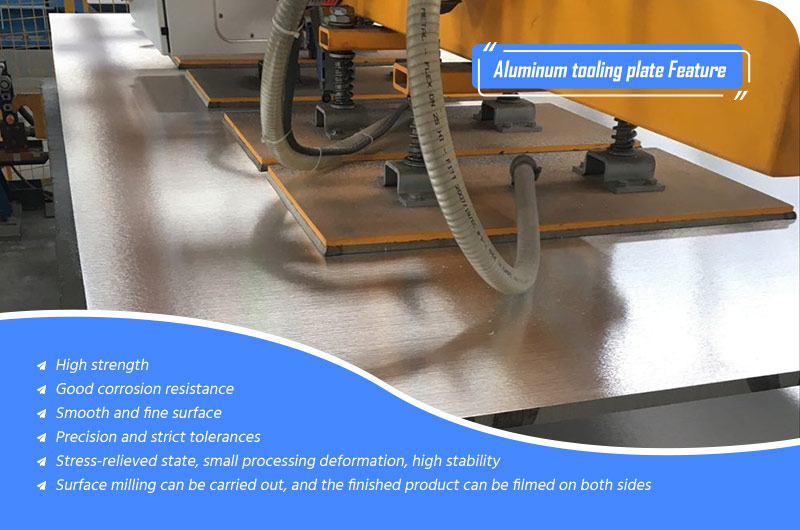 What is aluminium tooling plate used for?
1.Fixture Plates
2. Machinery Industry
3.Automotive Industry
4.Packaging Machines and Molds
5.Plastic Part Production
6.Printing Machines
7.Aerospace Machining Plates
8.CNC Router Plates
9.Electric and Electronic Industry
10.Medical Material Molds
11.3D Printing Plate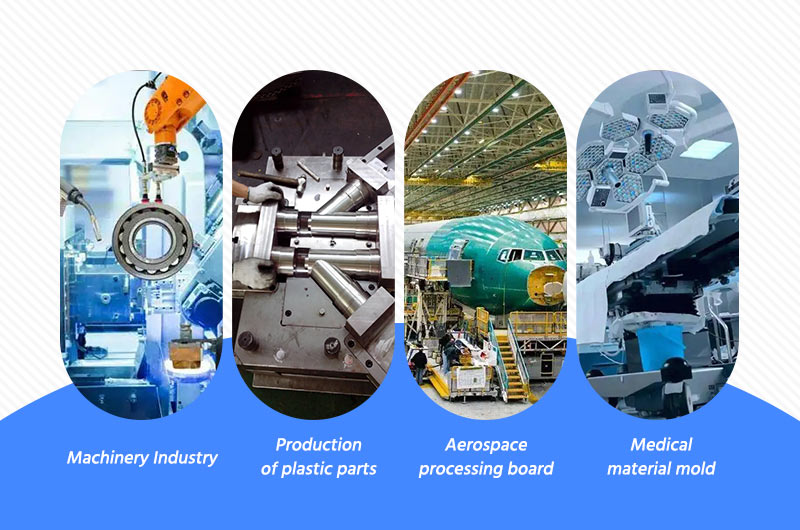 Which fields aluminum cast tool and jig plate are used in?
Ships, automobiles, aviation, subway light rail, computer numerical control (CNC) circuit boards, chip printing devices, circuit printing devices, various instruments, screen displays, dielectrics, electronic equipment, food machinery, plastic injection molds, high strength value And low residual stress components, signs, medical instruments, packaging machinery and models, pharmaceutical machinery, printing presses, robotics, vacuum suction cups, decorative materials, testing equipment, and so on.
Chemical Composition

DIN EN 573-3 / 3.3547

Typical Mechanical Properties

Tensile Strength Rm 220-290 MPa (N/mm²)

Yield Strength Rp0.2

110-130 MPa (N/mm²)

Elongation A % 12-15

Brinell Hardness HB 65-72

Typical Physical Properties

Density 2.66 g/cm³

Thermal Conductivity 110-140 W/(mK)

Electrical Conductivity 16-19 MS/m (m/Ωmm²)

Modulus of Elasticity about 70GPa

Coefficient of thermal expansion 24.2 × 10-6/K

Tolerances

Surface Finish Ra ≤0.4μm

Tolerance in Thickness +/- 0.1 mm

Flatness 6-12 mm thickness ≤ 0.40 mm

> 12-100 mm thickness ≤ 0.13 mm

Tolerance in Width for Plates 0/+10 mm

Tolerance in Length for Plates 0/+15 mm

Tolerance (L/W) for Sized Cuts DIN ISO 2768-m

Material Properties

Machinability very good

Weldability (TIG, MIG) good (with S Al 5183)

Anodising Properties good, not decorative

Polishing very good

Corrosion Resistance very good

Eroding Properties good

Thickness Range & Sizes

Plates and pre-cut sizes between 5 mm and 200 mm

are available in the following dimensions:

Thickness× max. Width×max. Length

≥ 5 mm x 2000 mm x 4000 mm
What affects the price of aluminium tooling plate?
Cast aluminum tool & jig plate price is composed of two parts:The first part is the price of aluminum ingots.And the second part is the processing fee. Aluminum prices are influenced by economic conditions, exchange rates, electricity prices, political factors, transportation conditions, and many other factors, while our processing fees are generally fixed But under the same conditions and quality assurance, our price has an advantage, because our processing fee is cheaper than that of Western countries' aluminum companies.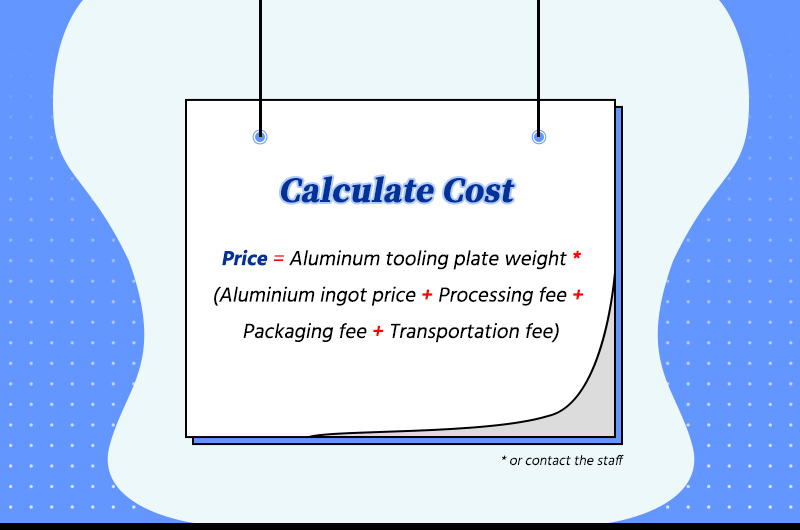 Therefore, under the same conditions, our price has a great advantage over some tool plates. For example, alcoa mic 6 aluminum cast plate, alca 5 tooling plate, mic 6 cast plate, atp5 tooling plate, c250 aluminum cast tooling plate, k100 tooling plate, mic 6 cast tooling plate, k100s tooling plate.
The common specification of our tool and jig plate is 5 --- 200mm x 2000 mm x 4000 mm, which can be cut into any thickness according to customer's requirements, and there is no limit to the MOQ, 1 piece or 2 pieces can be customized. We also have stock of 5083 tooling plate, therefore different specifications can also be customized with aluminum plate cutter and aluminum plate saw, the MOQ is not limited, and it can be cut into aluminum blocks of any size. So it is very convenient to buy our tool board, large and small orders are welcome.