Alloy 5086 aluminum plate sheet have even higher strength than 5052 or 5083 and its mechanical properties vary significantly with hardening and temperature. It is not strengthened by heat treatment; instead, it becomes stronger due to strain hardening or cold working of the material. This alloy can be readily welded, retaining most of its mechanical strength. The good results with welding and good corrosion properties in seawater make Alloy 5086 aluminum plate sheet extremely popular in marine applications. Alloy 5086 aluminum plate sheet has been used in vehicle armor plate due to its high strength factor.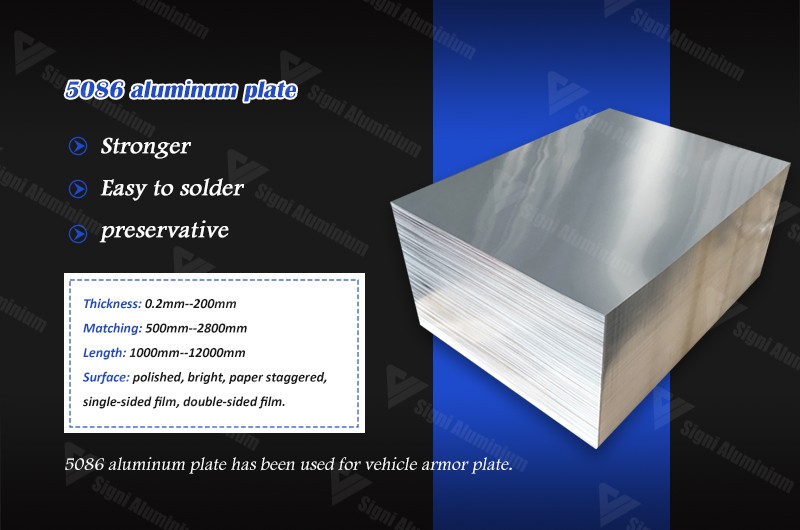 5086 aluminum plate
5086 aluminum plate for sale
1. Alloy: 5086
2. Temper: O, H111, H112, H116, H321,H12,H14, H16, H18, H32, H34, H36
3. Thickness: 0.2mm--200mm
4. With: 500mm--2800mm
5. Length: 1000mm--12000mm
6. Surface: Mill finish, Bright finish, paper interleaved, one side film, both sides film.
Generally speaking, the commonly used 5086 aluminum plates are o, h111, h112, h116, H321, etc
5086 Alloy Chemical Properties
Alloy
Si
Fe
Cu
Mn
Mg
Cr
Ni
Zn
Ti
Ga
V
Others
Aluminium min.
Each
Total
5086
0.4
0.5
0.1
0.2-0.7
3.5-4.5
0.05-0.25
-
0.25
0.15
-
-
0.05
0.15
Remainder
Advantages of 5086 aluminum plate
1. High corrosion resistance, medium strength and good weldability.
2.5086 aluminum plate has low density, high tensile strength and high elongation.
3. The surface of aluminum plate shall be smooth without burr, scratch and neat trimming.
4. With advanced technical equipment and mature process, Signi aluminum can produce 5086 ultra wide aluminum plate with stable performance.
Typical use of 5086 aluminum plate
Application of 5086 aluminum plate
5086 aluminum plate is a typical antirust aluminum. 5086 aluminum plate is widely used in occasions requiring high corrosion resistance, good weldability and medium strength, such as weldable parts of ships and automobiles, pressure vessels, refrigeration devices, TV towers, installation and exploration equipment, transportation equipment, oxidizing materials, fuel tank materials, coal gondola, door plate materials, oil tank materials, etc.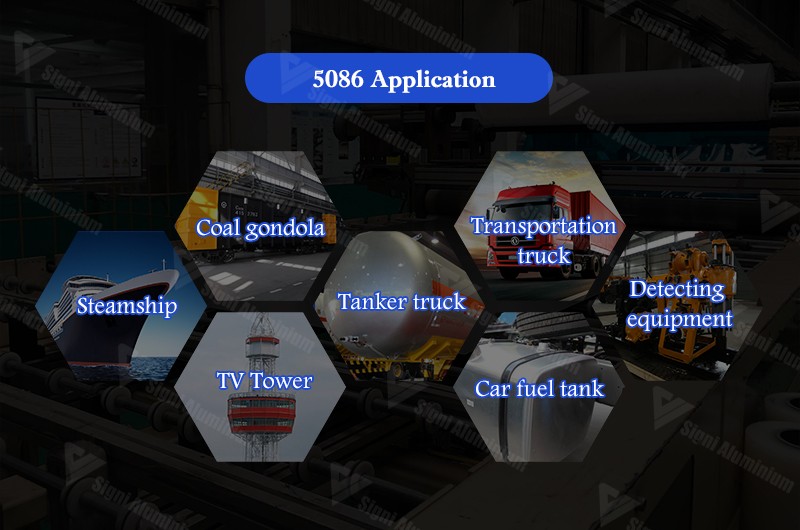 Application of 5086 aluminum plate
5086 aluminum sheet customer case
Due to the excellent performance of 5086 aluminum plate, it can be used in all aspects. The name of 5086 aluminum plate is different according to different purposes. For example:
1.5086 automotive aluminum plate has the advantages of high strength, good extrusion, good weldability and good corrosion resistance. It is especially suitable for aluminum body, underframe and frame. While ensuring the strength of the car body, it reduces the weight of the car body, effectively saves energy and reduces the operation and maintenance cost.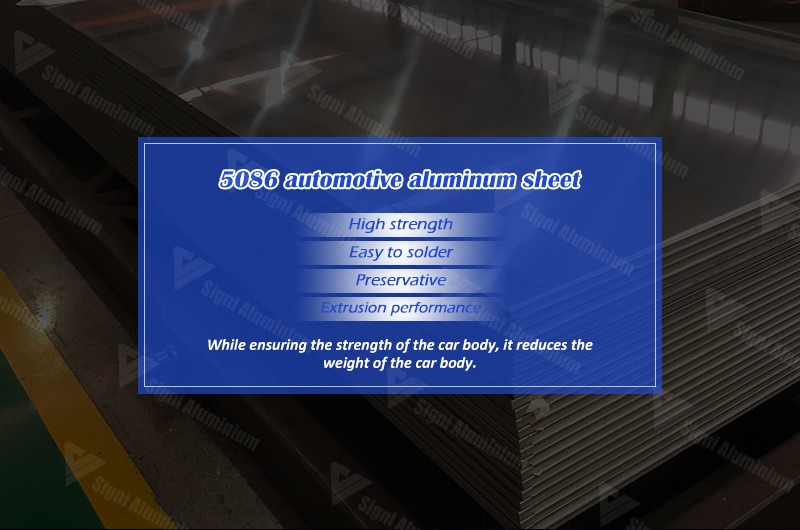 5086 automotive aluminum sheet
2.5086 Marine grade aluminum plate can show good corrosion resistance in atmospheric, water, oil and other media. It has entered the world shipbuilding market, mainly used in marine decks, engine bases, marine sides, bottom shells, consoles, etc.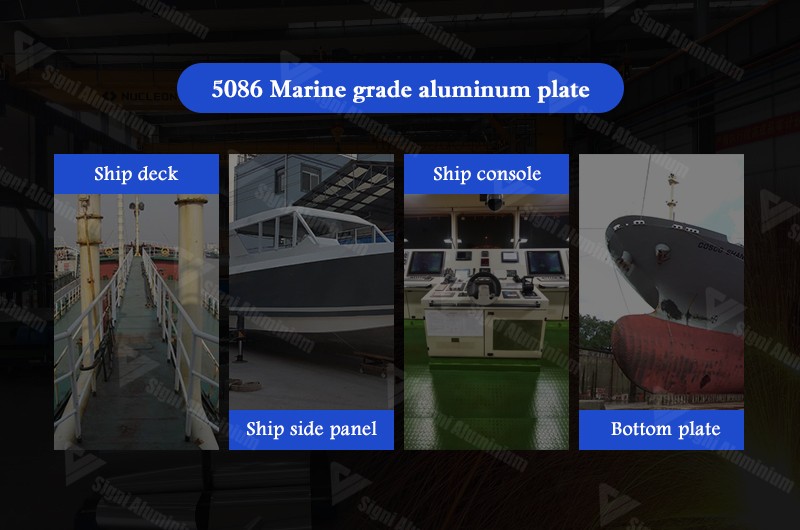 5086 Marine grade aluminum plate
3.5086 aluminum plate has anti-skid and anti rust functions. 5086 aluminum tread plate is commonly used in floor decoration and refrigerated vehicles. 5086 aluminum tread plate is also known as 5086 aluminum checkered plate or anti-skid aluminum plate. 5086 aluminum tread plate is widely used in anti-skid floors, decoration and other fields such as buildings, vehicles and ships.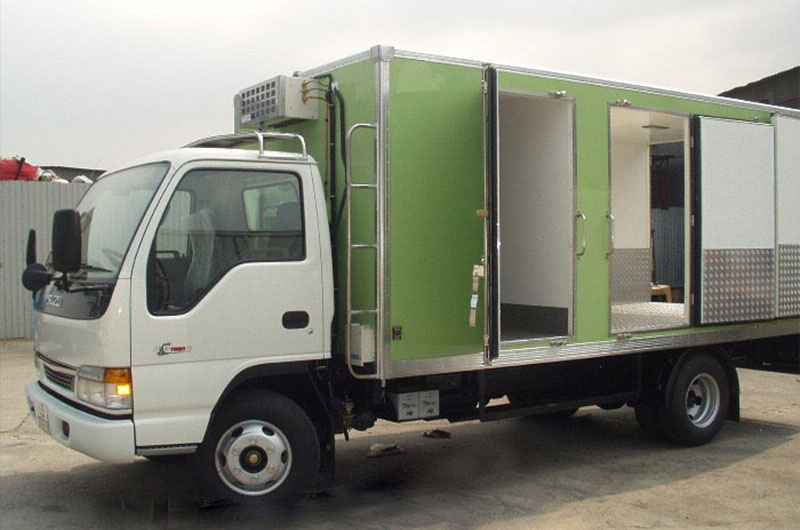 Customized 5086 aluminum tread plate for refrigerated truck
4.5086 aluminum alloy automobile fuel tank is anti-corrosive and anti-rust, has good oxidation resistance, and the density of aluminum is relatively light, long life, high recycling rate, environmental protection, and the most important thing is safety. Aluminum fuel tank has good Welding performance is a feature that iron and plastic materials do not have, especially when it is subjected to a strong impact, it will not break due to the welding joint. At this time, the safety of people and vehicles is well guaranteed.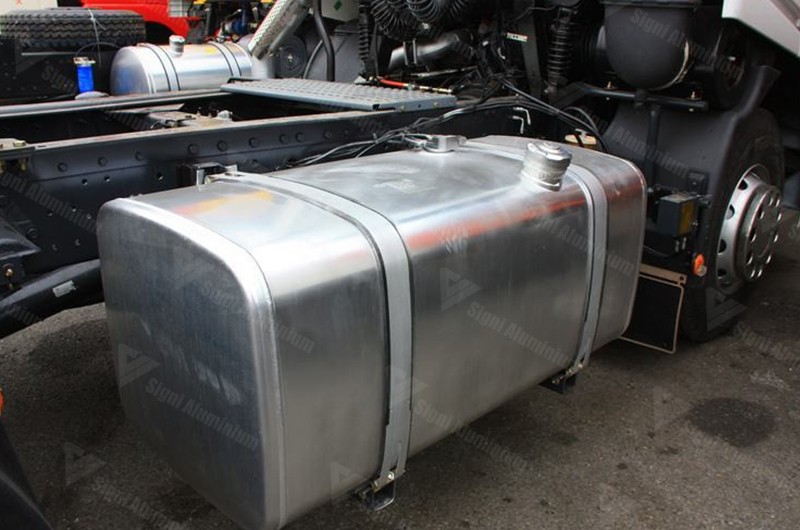 Picture of 5086 aluminum alloy automobile fuel tank
5. 5086 alumina plate belongs to the Al-Mg-Si series alloy, which has a wide range of use, good corrosion resistance, excellent weldability, good cold workability, and medium strength.
6. 5086 alloy is the most widely used anti-rust aluminum. This alloy has high strength, especially fatigue resistance: high plasticity and corrosion resistance, good corrosion resistance, good weldability, and it can be polished. 5086 anti-rust aluminum plate.Affordable price
5086 aluminum plate Principal Design Features
This is a non-heat treatable alloy for strengthening. It has very good corrosion resistance, is easily welded and does have good strength.
Machinability
No specific data. However the alloy is machinable by conventional means.
Forming
Forming characteristics are good for either hot or cold working.
Welding
Weldability of this alloy is very good by conventional means. When filler rod is required it should be the same alloy, 5083.
Forging
Forging may be done in the range of 850 to 750 °F.
Hot Working
Hot forming, when sever deformation is required, may be done at 400 °F or higher to 700 °F.
Cold Working
AL 5083 is readily cold worked by conventional methods. In the annealed (O temper) condition plate of 0.250" thick can be bent on 1.5 T radius.
Annealing
Annealing may be done at 650 F for sufficient time for thorough heating, followed by air cooling.
Tempering
Not applicable.
Hardening
Hardening is accomplished by means of cold working only.
5086 aluminum plate price
The price of 5086 aluminum is determined by the price of aluminum ingots. Since the price of aluminum ingots fluctuates daily, the quotation will fluctuate.
Aluminum plate price = aluminum ingot price on the day of shipment + processing fee
If you want to know the detailed price of 5086 aluminum plate, please provide the required product thickness, width, length (mm), total demand (tons), so that we can provide you with an accurate quotation. For specific details, please consult our mail(service@signialuminium.com). For, our price can be paid.
Alloy EN AW-5086 [AI Mg4]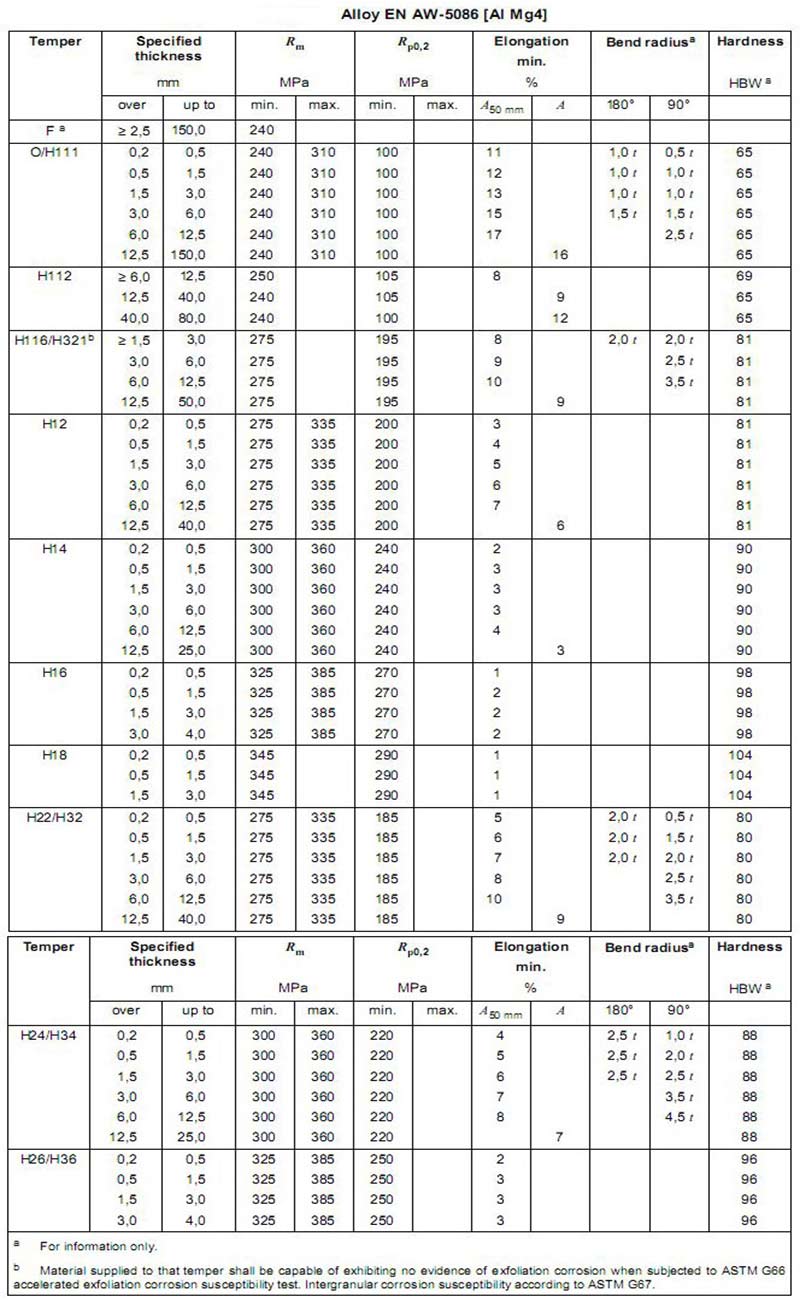 5086 aluminum plate suppliers
Signi Aluminum is a large-scale 5086 aluminum plate manufacturer, which produces 5086 medium-thick aluminum plates, 5086 marine aluminum plates, 5086 ultra-wide aluminum plates, 5086 aluminum alloy sheets, 5086 pattern aluminum plates, etc., which can be customized on demand.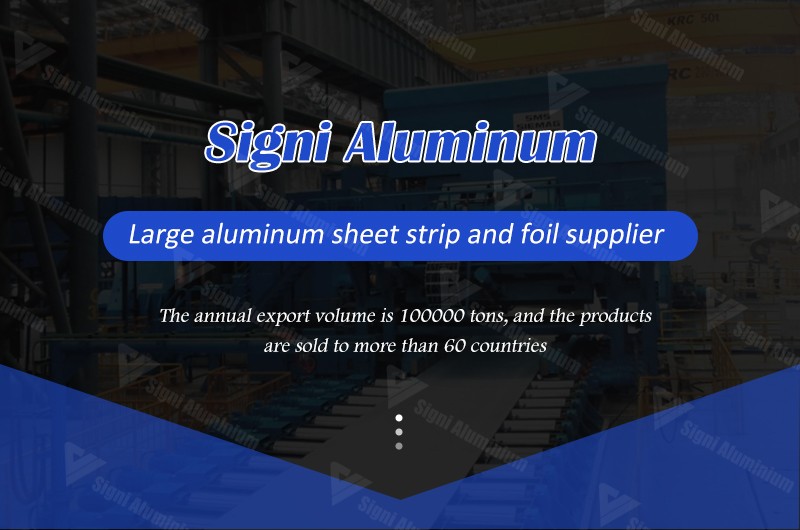 Signi Aluminum
5086 aluminum alloy packaging and delivery
1.paper or film the aluminum plate to ensure that the surface of the aluminum plate is intact and scratch-free;
2.plastic or kraft paper packages are used to prevent moisture and rain, and to ensure that the aluminum plate is clean and free of dirt during transportation (each package has a moisture-proof desiccant to ensure the quality of our products in eastern and southern China where there are more rainy and rainy areas);
3.Install wooden pallets and reinforce them with steel belts to avoid collisions during transportation and ensure that the geometric shape of the aluminum plate remains unchanged;
4. Export products are packed in wooden boxes and brackets with fumigation marks;
5.Packing according to other packaging requirements of customers;