5A06 aluminum plate is a high magnesium alloy, which is Al Mg antirust aluminum. 5A06 aluminum alloy has high strength and corrosion resistance stability, and has good plasticity under annealing and extrusion. 5A06 aluminum plate is widely used in industry and has high tensile strength σ B ≥ 315 (MPA), elongation δ 10 15(%)。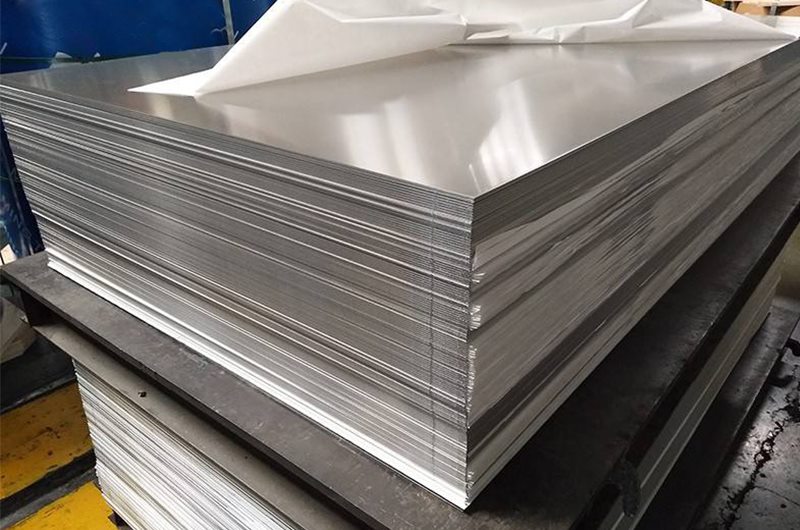 5A06 aluminum plate
5A06 is a kind of aluminum with (mg) of 5.8% - 6.8%. It is an aluminum alloy that cannot be strengthened by heat treatment. It has medium strength and acceptable plasticity during annealing. It is easy to carry out argon arc welding, resistance welding, smooth beam welding, plasma arc welding, friction stir welding, etc. it has good corrosion resistance in annealing state. Cold work hardening can improve the strength, but the stress corrosion resistance is reduced. It is a good choice for aviation, aerospace Aluminum alloy is widely used in national defense industry. 5A06 aluminum alloy sheet welding is also easy to deform. Because the thermal conductivity of aluminum is three times that of steel, during the welding process of 5A06 aluminum alloy, the uneven heating makes the temperature of the weld and its vicinity very high. After cooling, the weld produces different degrees of shrinkage and internal stress, resulting in various deformation of the welding structure.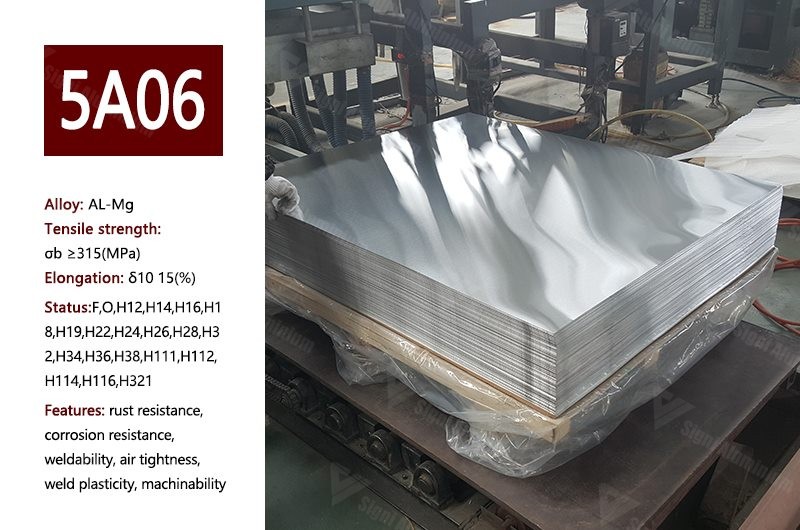 5A06 aluminum plate advantage chart
5a06 aluminum plate for sale
Thickness (mm): 1-600
Width (mm): 20-2650
Material status: F, O, H12, h14, H16, h18, H19, H22, H24, H26, h28, H32, H34, H36, h38, h111, h112, h114, h116, H321
Typical products: aircraft skin and bone parts, ships, automobiles, aircraft weldments, etc
Performance features: excellent antirust performance, good corrosion resistance and weldability, good air tightness and weld plasticity, Machinable, stable performance, high environmental protection and reuse rate.
The excellent corrosion resistance makes 5A06 alloy widely used in maritime applications, such as ships, automobile, aircraft welding parts, subway light rail, pressure vessels requiring strict fire prevention (such as liquid tank cars, refrigerated vehicles, refrigerated containers), refrigeration devices, TV towers, drilling equipment, transportation equipment, high-precision parts, armor, etc.
Chemical composition of 5A06 aluminum plate
alloying element
Fe
Si
Mn
Cu
Mg
Zn
Ti
Total impurities
Al
0.4
0.4
0.5~0.8
0.1
5.8~6.8
0.2
0.02~0.1
≤0.1
allowance
Mechanical properties of 5A06 aluminum alloy plate with 4.5 mm-thickness
| Yield strength/ MPa | Ultimate tensile strength/ MPa | Elongation/ % | Hardening index, n | Strength coefficient, K/MPa |
| --- | --- | --- | --- | --- |
| 207 | 356 | 23.3 | 0.29 | 705 |
Which 5A06 aluminum plate manufacturer to choose?
Large scale aluminum plate manufacturers are selected for product selection. The product quality is guaranteed and the production is more worry free.
As a large-scale aluminum plate manufacturer, Signi aluminum has more than 20 years of production experience and strong enterprise strength, which brings peace of mind to every partner, and the quality of 5A06 aluminum plate is guaranteed.